The Mintion Beagle V2 camera is upgraded based on the Beagle camera which is upgraded with Manual Focus, Dual Band WiFi for 2.4GHz/5GHz, a Tripod inside the box, and a more powerful chipset. Compatible with Creality Ender 3 Pro / Ender 3 V2 / Ender 3 S1, Anycubic Kobra 2 / Kobra Max / Vyper, Prusa MK3+ / MK4, ... etc 3D Printers
Mintion | Beagle V2 Camera | 3D Printer Camera
Shipping Costs
We distribute worldwide via 4PX, EMS, DHL, FedEx, UPS, USPS, and particular freight companies for unique items. We offer Free Shipping when the order is equal to or over $20. 
Order Confirmation & Shipment
As soon as you place your order, you will receive an order confirmation e-mail. This means that we have received your order in our system and pre-authorized your credit card for the purchase. As soon as we receive your order, we will arrange the shipment and send you the tracking information within 24 hours, then you will receive an email with the tracking number. If you do not receive tracking information from us within three business days of your order, feel free to follow up with us at shop@mintion.net. 
Shipping Duration
All the products on our shop has shown the location to ship from, and the following duration days are for reference:
| | | | |
| --- | --- | --- | --- |
| Warehouse | North American | Europe | Other Areas |
| China | 5-10 working days | 5-12 working days | 7-20 working days |
| US | 3-7 working days | - | - |
| European | - | 3-10 working days | |
Title and Risk of Loss
Title to all Products supplied hereunder shall pass to Customer when delivered to the carrier and thereafter, except as otherwise explicitly provided herein, all risk of loss and/or damage to any Products ordered hereunder shall be borne by Customer.
Inspection and Claims for Damage in Transit
Customer shall carefully examine all deliveries of Products made hereunder and within five (5) days of the receipt notify our shop of any alleged error, shortage, defect, or non-conformity of any such Products. Any failure by Customer to examine and report shall constitute a waiver of any claim or right of Customer against our shop arising hereunder or by law concerning any such error, shortage, defect, or non-conformity reasonably discoverable by such examination Customer shall make any claims by Customer for damage or loss in transistor against the carrier.
Avoid Wasting Filament
With the beagle V2 camera, you can find the abnormal printing problems and pause/stop printing in time, so as to avoid wasting more filament.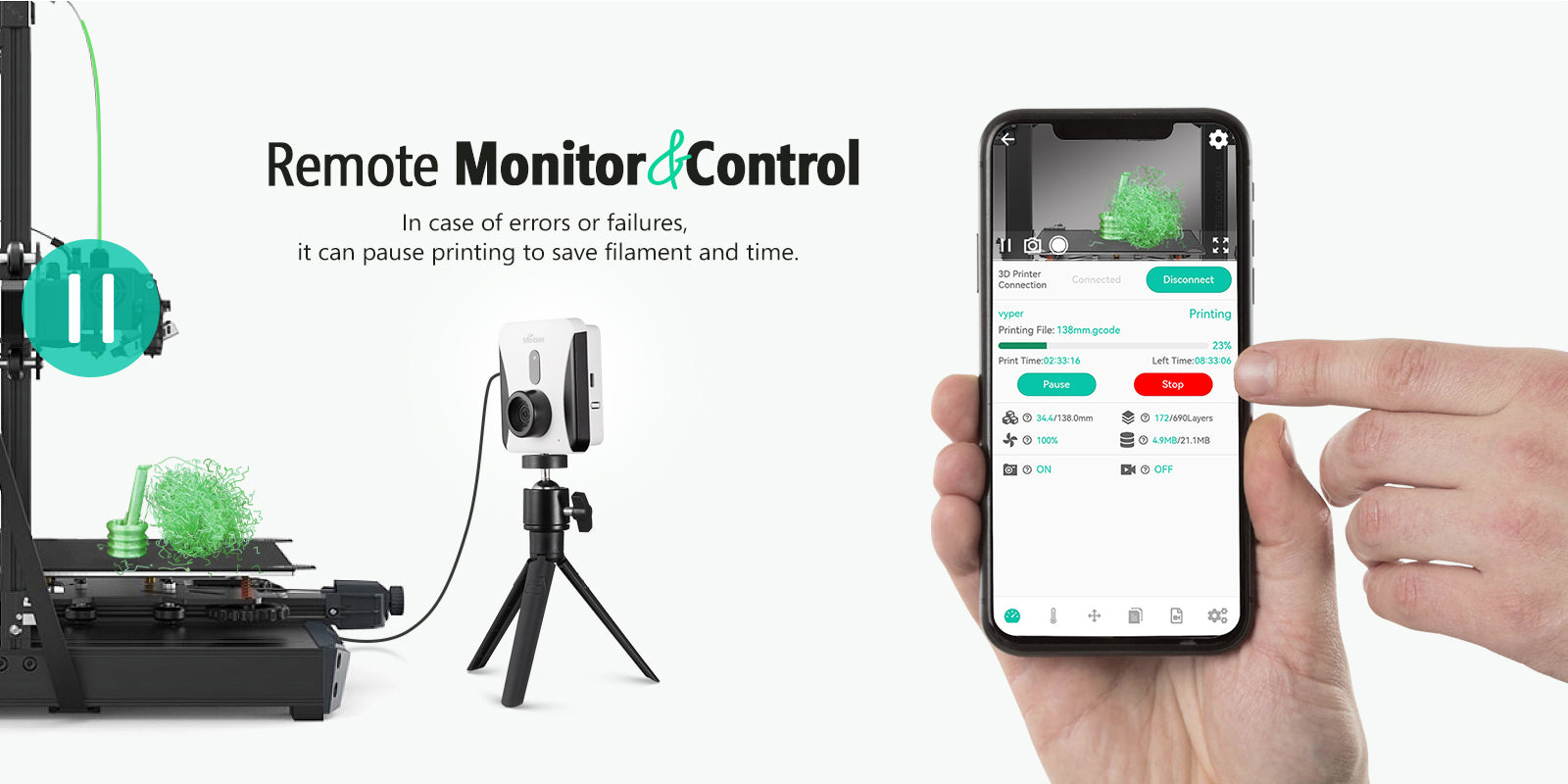 Plug & Play
Easy to use: connect the power, connect the printer, download the app - beagleprint and register an account, scan the code to connect to wifi. Especially the beagle V2 camera supports connecting to 2.4G/5G wifi for use.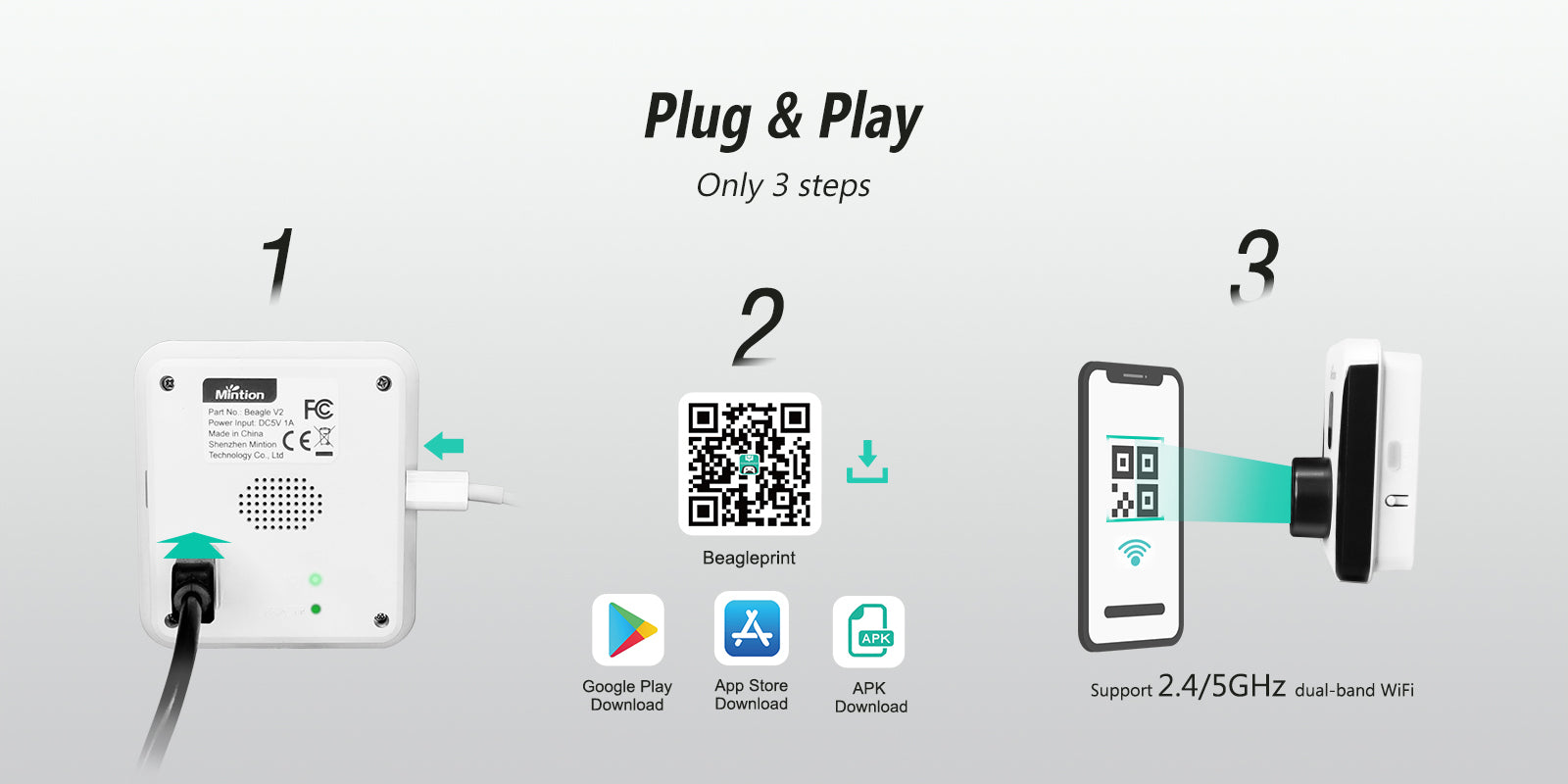 Simple to Focusing
The beagle V2 camera comes with an adjustable focus lens, you only need to manually turn the lens to adjust the focus, and easily achieve 1080P high-definition images.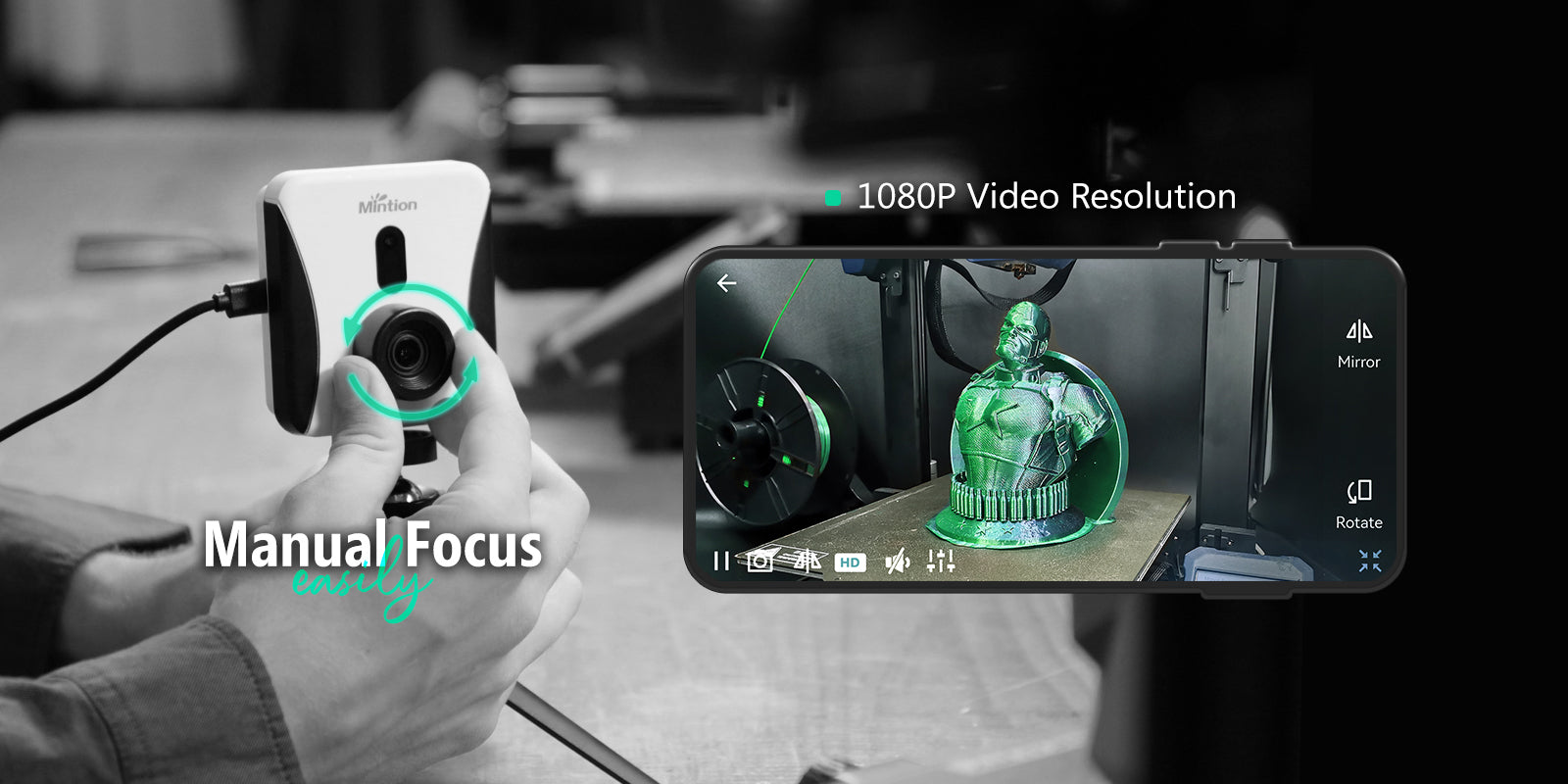 Remotely Monitor Printing Status
After using the beagle v2 camera, you can monitor and check the printing status in real time no matter when and where.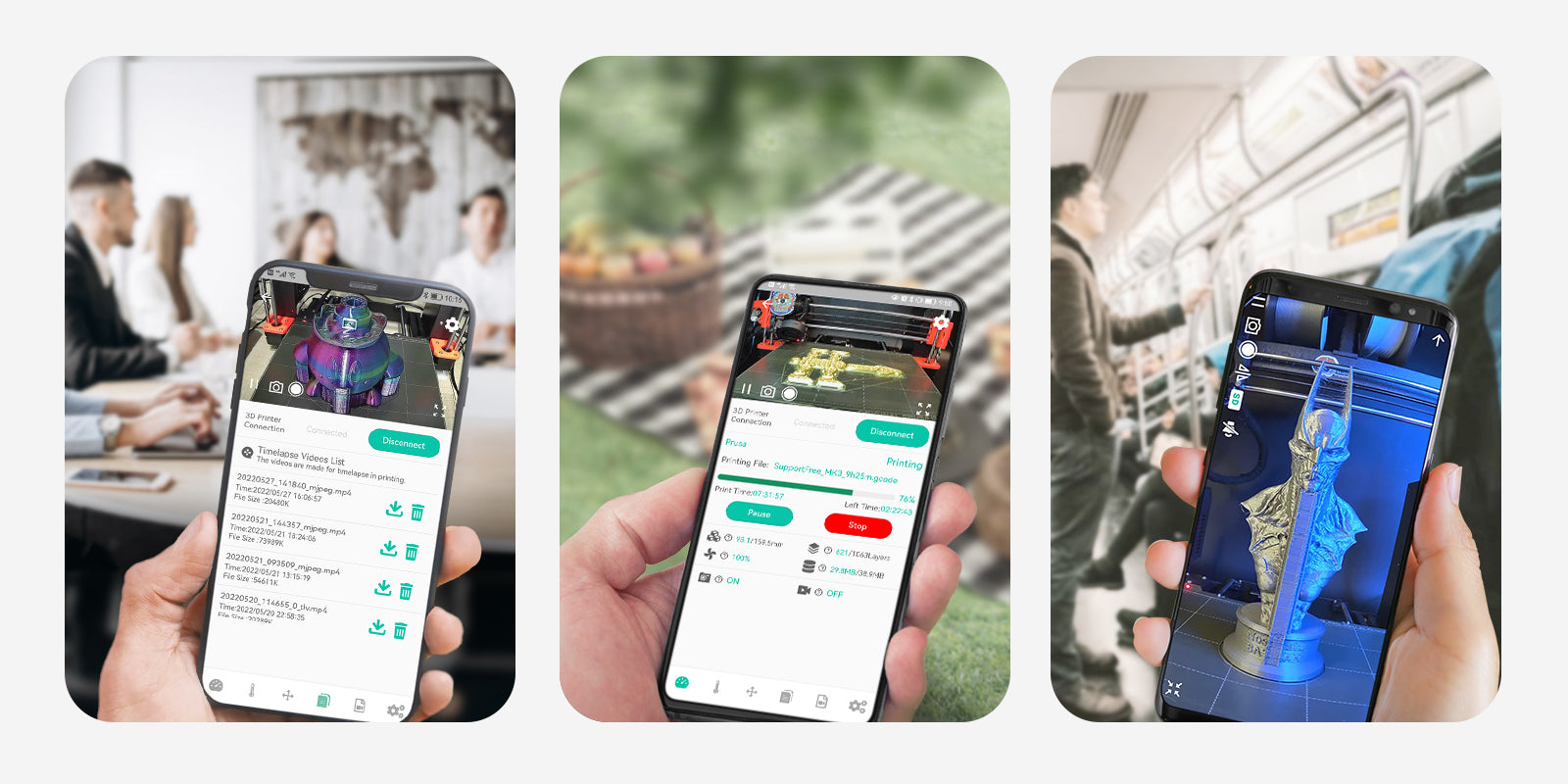 Remote Control Printing
The beagle V2 camera can remotely control the printer. no matter where you are, you can upload the print file to the camera for printing through the app, and you can remotely control the printing at any time(pause/cancel printing at any time)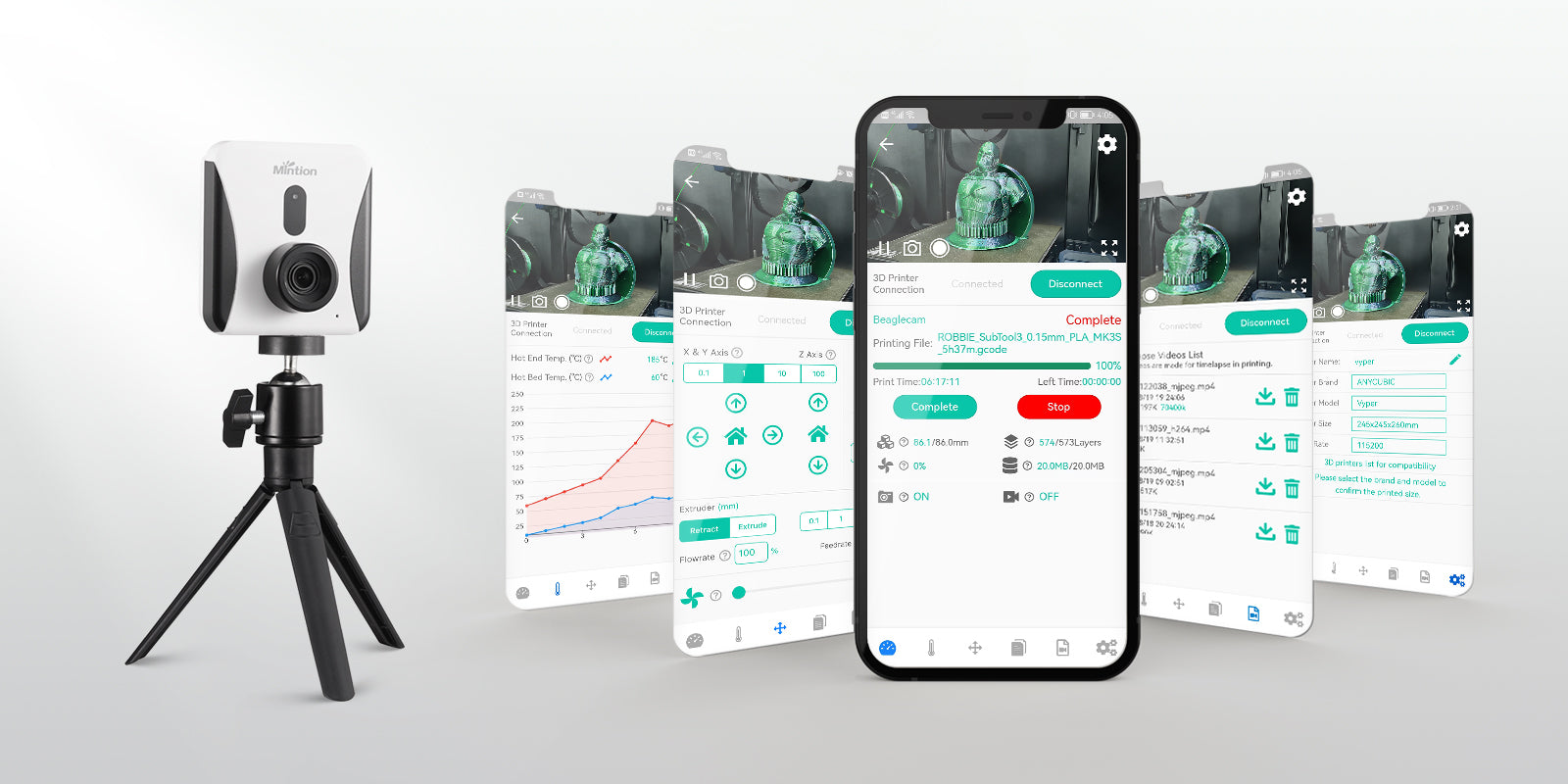 Use on Browser
Besides the app beagleprint, you can also use the beagle V2 camera in the browser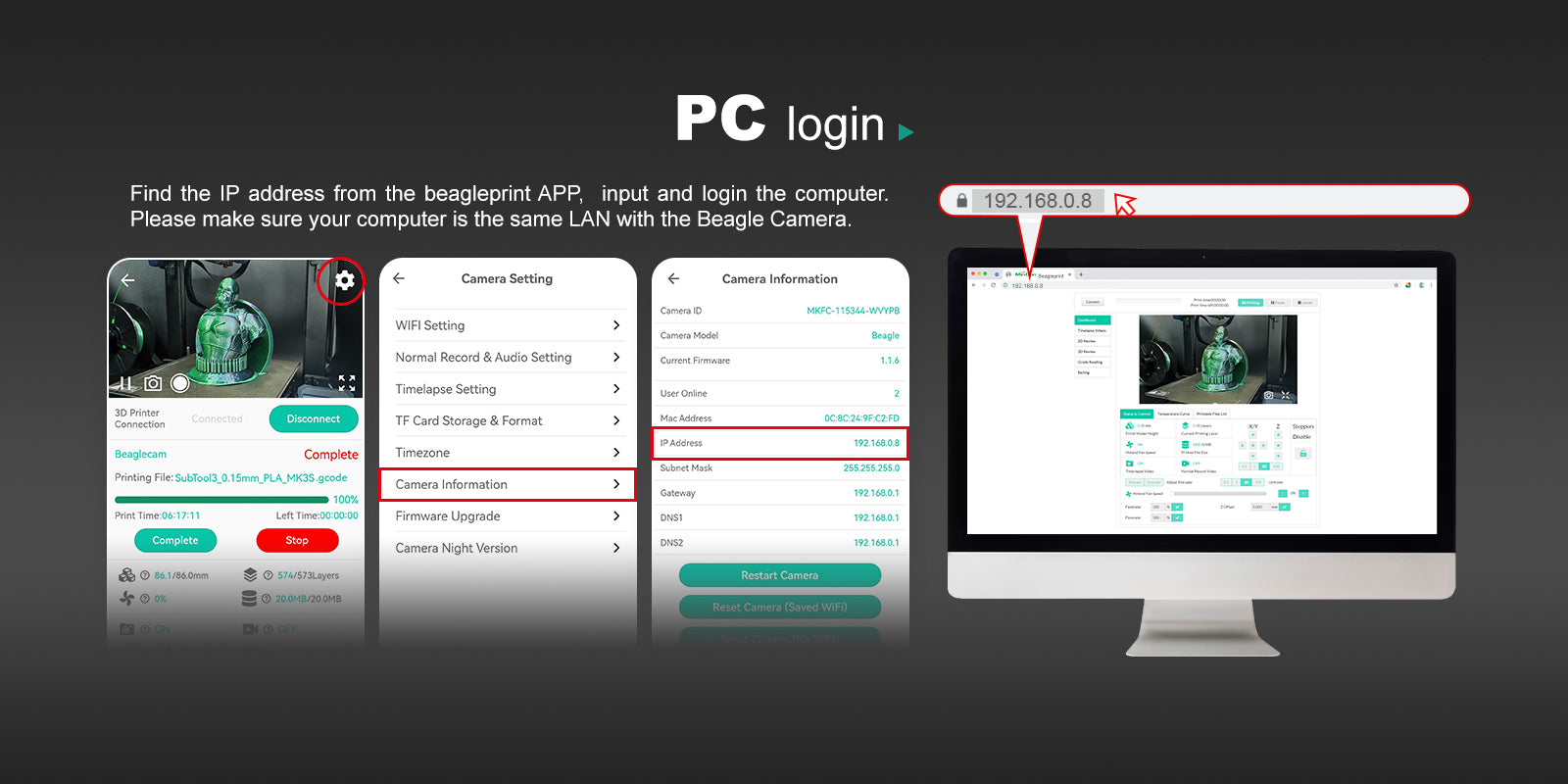 Real-time Prompt Printing status
When printing is paused/interrupted/completed, the app beagleprint will push a message in real time to let you know the printing status at the first time.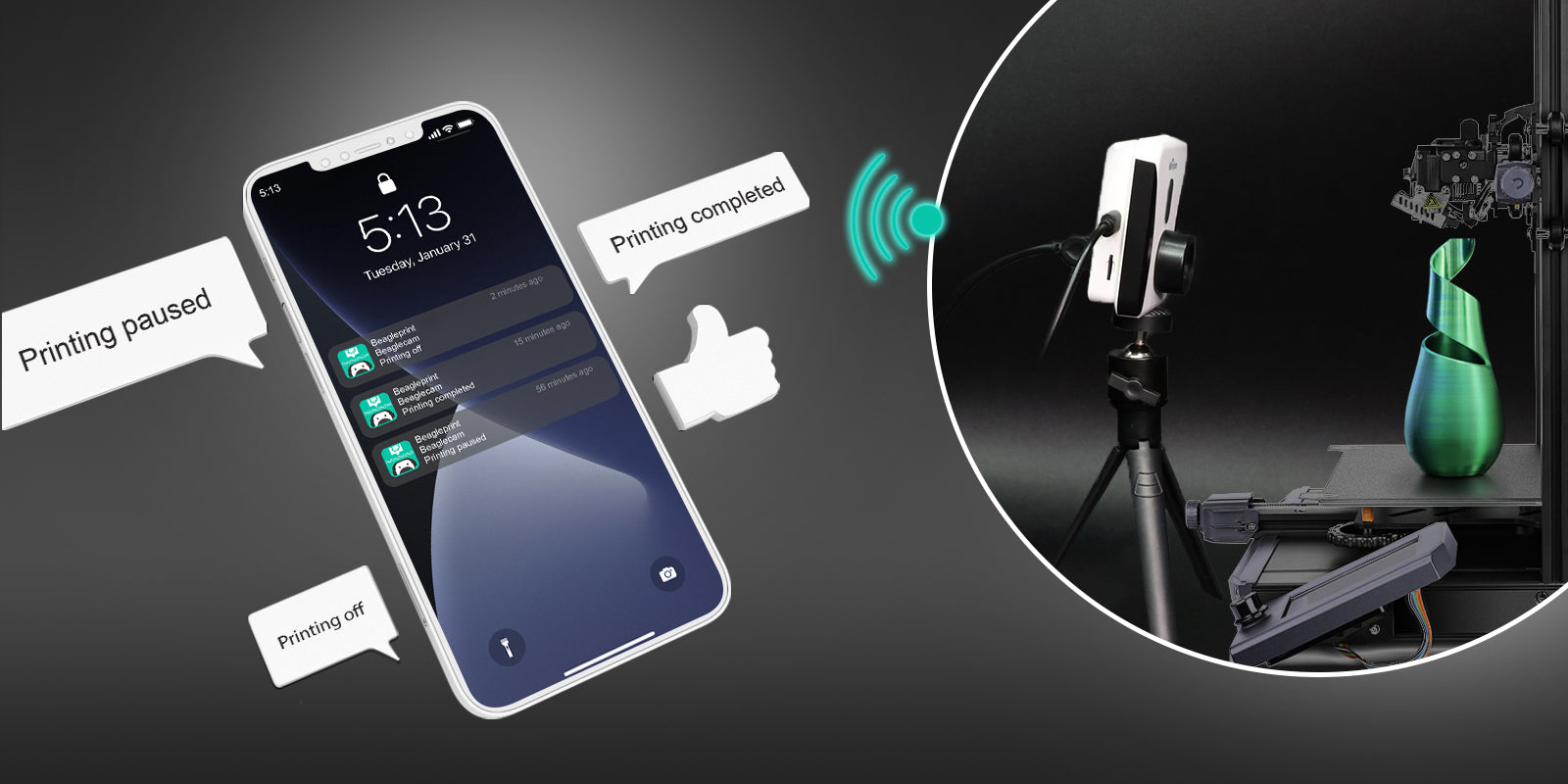 Multiple 3D Printers Management
With beagle v2 camera, you can manage your multiple 3d printers in the app at the same time.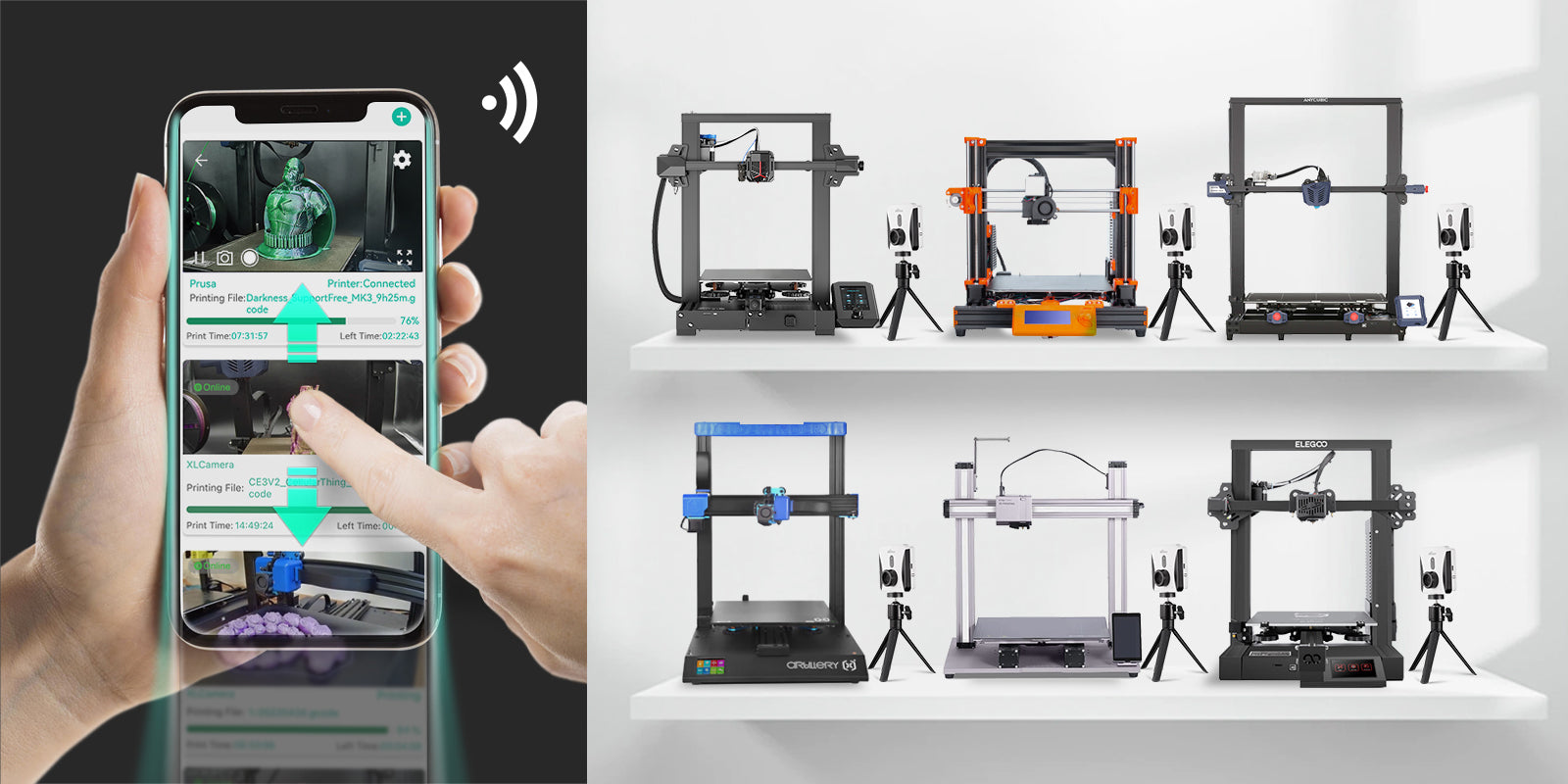 Create Time-lapse Video with Fun
Four different timelapse video modes to generate the video automatically
Clean Timelapse Video
The hot end and hot bed will be moved automatically when one layer is finished to create a timelapse video like model self-grow. But it will take longer time to print.
Normal Timelapse Video
The camera will capture the image when one layer is finished, but won't move the hot end and hot bed. And this will show the hot end in timelapse video.
Beagle UV Timelapse
This timelapse video for resin printing need to work with UV sensor to make the video. With UV sensor, camera will capture the image when getting the signal from UV sensor.
Timer Timelapse Video
This mode allows to make timelapse video even without connecting to the printer. You can set the timing to capture as a camera to make timelapse video.
Beagle Camera VS Beagle V2 Camera
The different between beagle camera and beagle v2 camera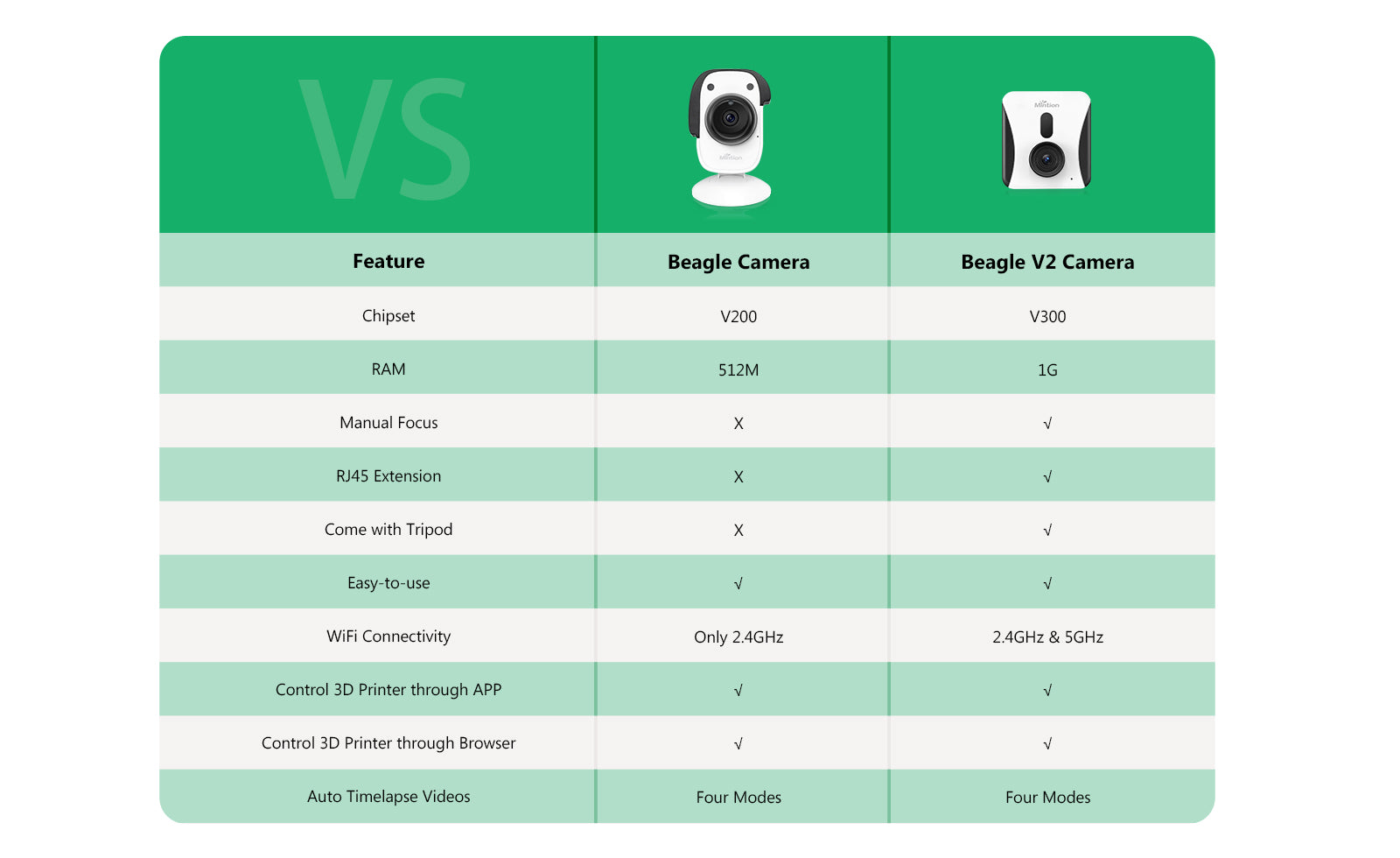 Compatible 3D Printers List
(With * are the new printers in compatible list with camera firmware V1.2.2.)
Anycubic
i3 Mega S / i3 Mega X / Vyper / Kobra / Kobra 2* / Kobra Go / Kobra Neo / Kobra Max / Kobra Plus / Chiron
Elegoo
Neptune / Neptune 2 / Neptune 2D / Neptune 2S / Neptune 3 / Neptune 3 Pro / Neptune 3 Plus / Neptune 3 Max*
Artillery
Sidewinder X1 / Sidewinder X2 / Genius / Genius Pro / Hornet
Creality
Ender 2 Pro / Ender 3 / Ender 3 Pro / Ender 3 Neo / Ender 3 V2 / Ender 3 V2 Neo / Ender 3 Max / Ender 3 Max Neo / Ender 3 S1 / Ender 3 S1 Pro / Ender 3 S1 Plus / Ender 5 / Ender 5 Pro / Ender 5 Plus / Ender 7 / CR-5 Pro / CR-6 SE / CR-10 / CR-10S / CR-10 V2 / CR-10 V3 / CR-10 Smart(Take off the wifi box) / CR-10 Smart Pro(Take off the wifi box) / CR-10 Max / CR-10 S5 / CR-20 Pro / CR-200B
Snapmaker
A350T / A250 / F350T / F250T
Sovol
SV01 / SV02 / SV03 / SV04 / SV06 / SV06 Plus*
Voxelab
Aquila / Aquila C2 / Aquila X2 / Aquila S2 / Aquila D1
Bigtree Mainboards
SKR Mini E3 V2.0 / SKR Mini E3 V3.0
Flying Bear
Ghost 5 / Ghost / Reborn 1
Geeetech
Mizar S / A20 / A20M / i3 Pro*
Kywoo
Tycoon / Tycoon Slim / Tycoon Max
Mingda
Magician X /Magician Pro / Magician Max
Monoprice
Mini Delta / Mini Select V2
Hellbot*
Magna 2 230* / Magna 2 300* / Magna 2 500* / Magna SE* / Magna SE Pro* / Magna SE 300* / Hidra* / Hidra Plus*
Night Version
Black & White; Color Night Version
Auto Time-lapse Video
Clean/Normal/Timer/UV sensor Mode
Files Storage
Micro SD Card (Default 32 GB)
Temp. Monitor
Yes, for Hot End & Hot Bed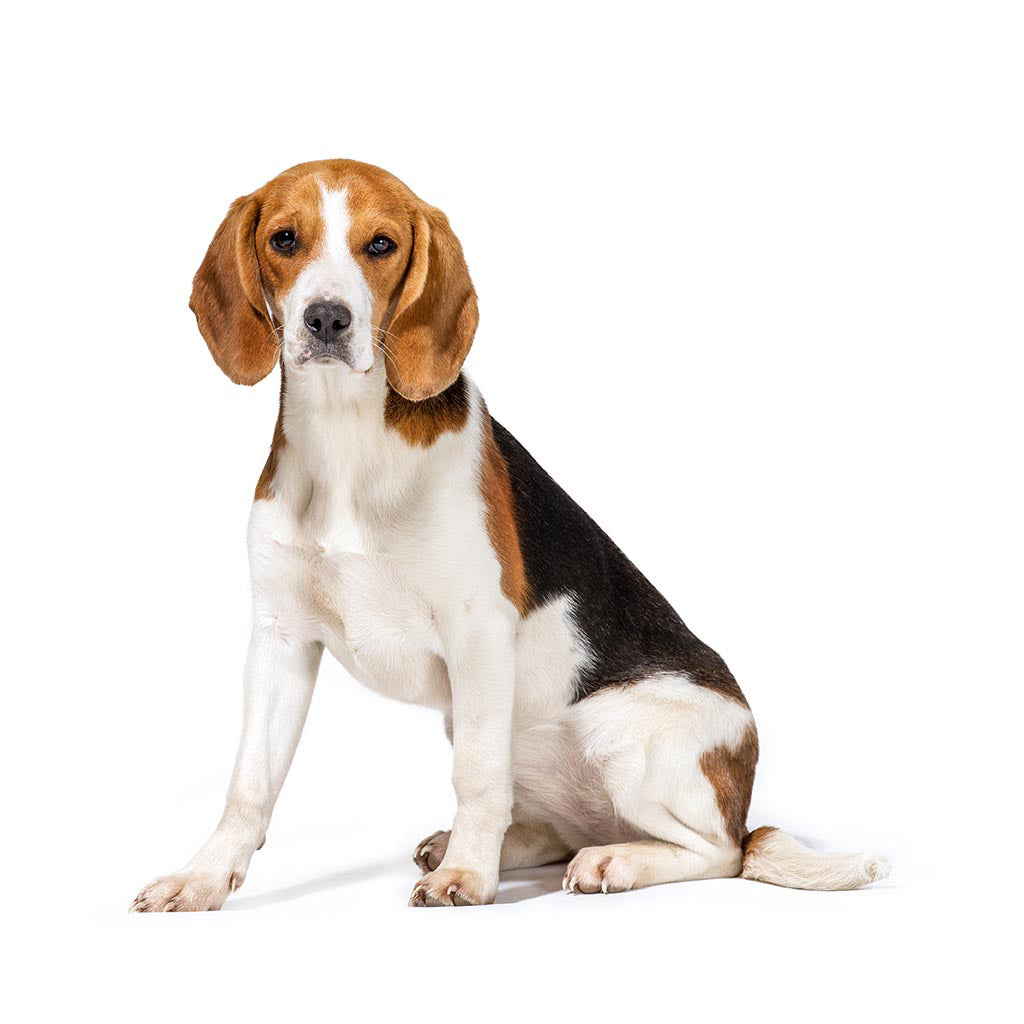 The Beagle
Excellence Watchdog
The Beagle is an excellent watchdog with a friendly personality; they have reliable guarding and territorial instincts and are highly protective of the family members, making them a good choice for a watchdog.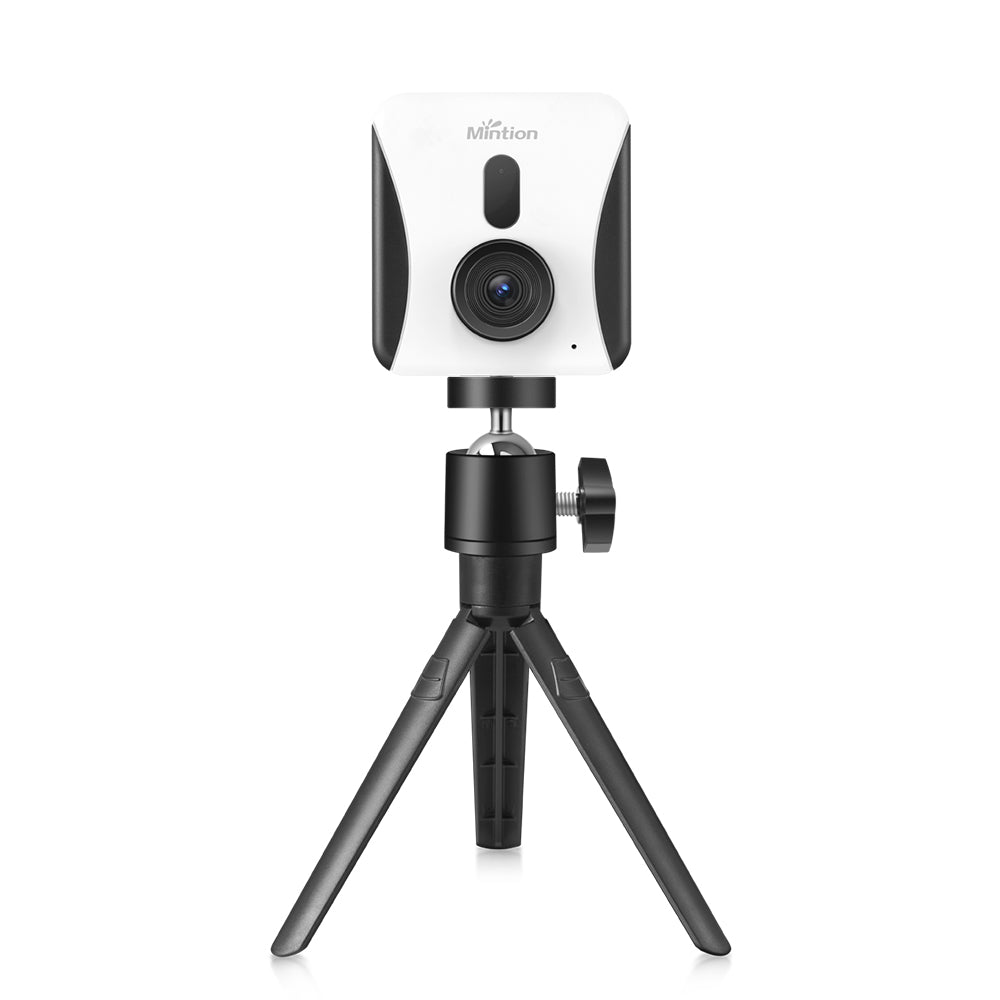 Beagleprint
Guardian on Your Printing
We hope that our Beagle V2 camera becomes a reliable printing guardian like a beagle; We are watching the printing progress from anywhere and finding the temperature abnormal to cause the printing issues to avoid the waste of filament.
Meanwhile, this camera is embedded with one button to auto-generation time-lapse videos to make 3d printing more fun, just like the Beagle always seems to be finding ways to make you laugh at them.
Tevo Little Monster (with custom Bigtreetech SKR 2 motherboard)
despite my printer not being officially listed as compatible, the camera works perfectly, i would like to suggest two additional features and some improvements:
1) being able to resume a print after a power loss (even renouncing to the time lapse, if needed)
2) an AI capable of detcting printing abnormalities, mainly under extrusion, over extrusion, filament ran-out and layer shift (in conjunction wih a filament sensor)
3) a periodic snapshot of the printing process sent to the user and visible in the lock screen and notifications of the smartphone/tablet
4) being able to use custom pre-warm temperatures for both hot end and hot bed in the app too and not in the web interface only and eventually being able to modify them
5) being able to sort the .gcode files stored in the micro sd of the camera in alphabetical order and folders
notice how the product is sponsored as a device that alllows the user to monitor and control the printer remotely, impling that both actions are performed/prompted manually, so the lack of the first two points are not to be considered as "despicable omissions", aniway, with the exception of the third point, i already suggested these features/improvements to the customer assistance, and all of them has been classified as "work in progress", definitely more reassuring than a straight "no!" and a proof of their efforts in selling a good product
Well worth it.
Like most 3D printers mine is pretty noisy. With the beagle camera I can now put the printer in a spare room so it is less disturbing, and I can keep an eye on it using my computer or phone. I also like being able to load g code using WiFi instead of SD cards.
The only problem I had so far is with the time lapse video. It worked fine at first but after about two weeks I loaded the latest firm wear and the Clean time lapse stopped working. The normal time lapse worked fine. A couple of days ago I reloaded the previous firm ware and the clean time lapse is back.
After 2 weeks of use
I love the camera very much. The quality of the video is excellent and I managed to make some very nice timelapse videos (one is attached, check out the channel for more). I encountered some problems with print quality, but most of them were resolved after following the instructions. Also the support team is very responsive and I get prompt replies to every question I ask. Excellent value for money. Highly recommended!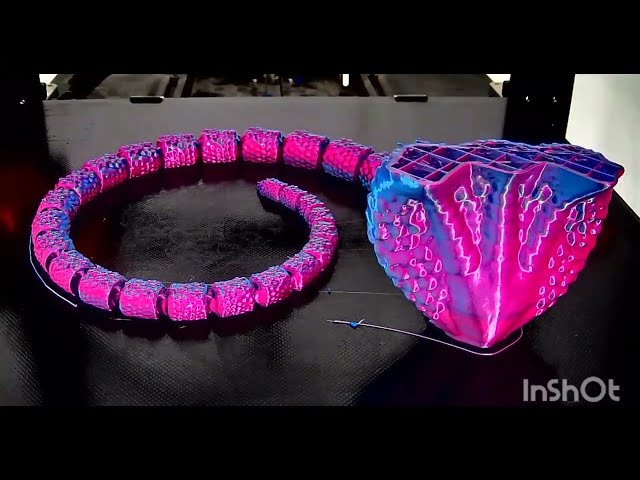 Very useful
I was hesitant when I received my Beagle v2. I had been using another product from a different manufacturer and had many issues with prints. I was thoroughly impressed impressed with the connection and control with the Beagle v2. Absolutely love it and recommend the Beagle v2. Only change I would like to see is remote power off for the printer.
Top Notch
This is a vast improvement over ver 1. Super easy to setup. Had it up and running in in less than 20 minutes. Makes viewing and controlling my printers remotely so easy.
Highly recommend.