This laser camera is specially designed as a standalone product with multiple functions for laser engraver/cutter and is compatible with major popular brands of diode laser engraver(Such as xTool, Atomstack, Sculpfun, Twotree, Ortur, Creality, NEJE, Longer, etc), complies with GRBL protocol with Lightburn and LaserGRBL. 
Plug & Play, Easy-to-use
Remote Monitor & Control your laser engraver/cutter
Offline engraving/cutting to free your computer and protect your eyes
Precisely positioning in Lightburn
Auto-generate timelapse videos for engraving/cutting job
Manual focus of camera lens for a better view
BeagleEngraver App to remote access from anytime anywhere
Support PC Browser to monitor & control the laser engraver/cutter 
Fire Detection to Alarm & Alert Message Push on App
Normal Record & Playback to save evidence if there's any incident
1080P resolution for video streaming 
Dual WiFi Bands of 2.4GHz & 5GHz for wireless connection
Come with a positioning holder bracket and a tripod for different angle view
Mintion Lasercam for Laser Engraver/Cutter | LightBurn Camera | Remote Monitor & Control | Positioning | Fire Detection
Shipping Costs
We distribute worldwide via 4PX, EMS, DHL, FedEx, UPS, USPS, and particular freight companies for unique items. We offer Free Shipping when the order is equal to or over $20. 
Order Confirmation & Shipment
As soon as you place your order, you will receive an order confirmation e-mail. This means that we have received your order in our system and pre-authorized your credit card for the purchase. As soon as we receive your order, we will arrange the shipment and send you the tracking information within 24 hours, then you will receive an email with the tracking number. If you do not receive tracking information from us within three business days of your order, feel free to follow up with us at shop@mintion.net. 
Shipping Duration
All the products on our shop has shown the location to ship from, and the following duration days are for reference:
| | | | |
| --- | --- | --- | --- |
| Warehouse | North American | Europe | Other Areas |
| China | 5-10 working days | 5-12 working days | 7-20 working days |
| US | 3-7 working days | - | - |
| European | - | 3-10 working days | |
Title and Risk of Loss
Title to all Products supplied hereunder shall pass to Customer when delivered to the carrier and thereafter, except as otherwise explicitly provided herein, all risk of loss and/or damage to any Products ordered hereunder shall be borne by Customer.
Inspection and Claims for Damage in Transit
Customer shall carefully examine all deliveries of Products made hereunder and within five (5) days of the receipt notify our shop of any alleged error, shortage, defect, or non-conformity of any such Products. Any failure by Customer to examine and report shall constitute a waiver of any claim or right of Customer against our shop arising hereunder or by law concerning any such error, shortage, defect, or non-conformity reasonably discoverable by such examination Customer shall make any claims by Customer for damage or loss in transistor against the carrier.
Offline Engraving/Cutting & Multi-device management
Free your computer for offline engraving/cutting and can use/manage multiple laser engravers at the same time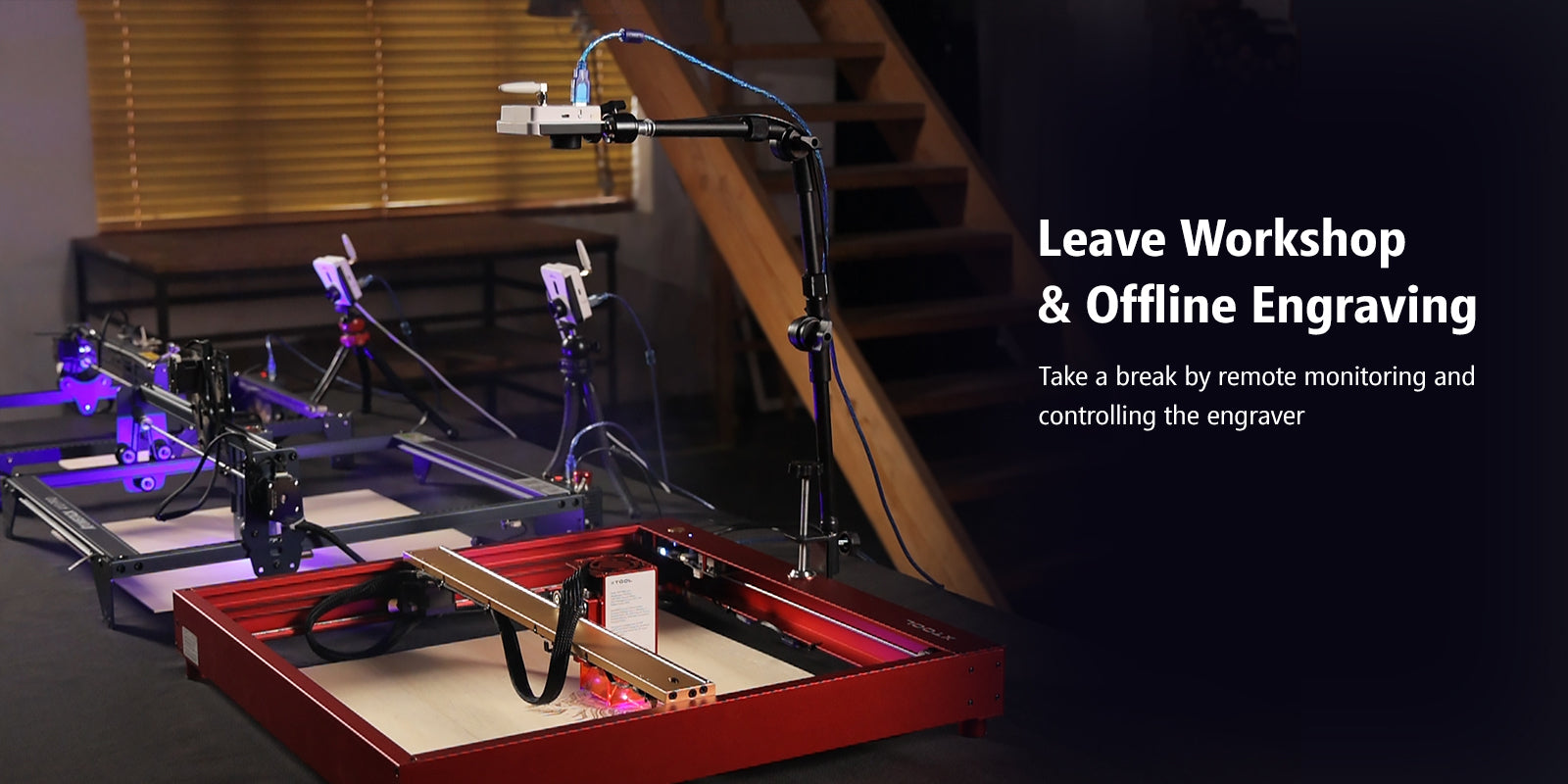 High Precision Engraving/Cutting
With Mintion laser camera, the calibration score is 0.05-0.2 on Lightburn; Also after precise alignment, high-precision engraving/cutting can be achieved.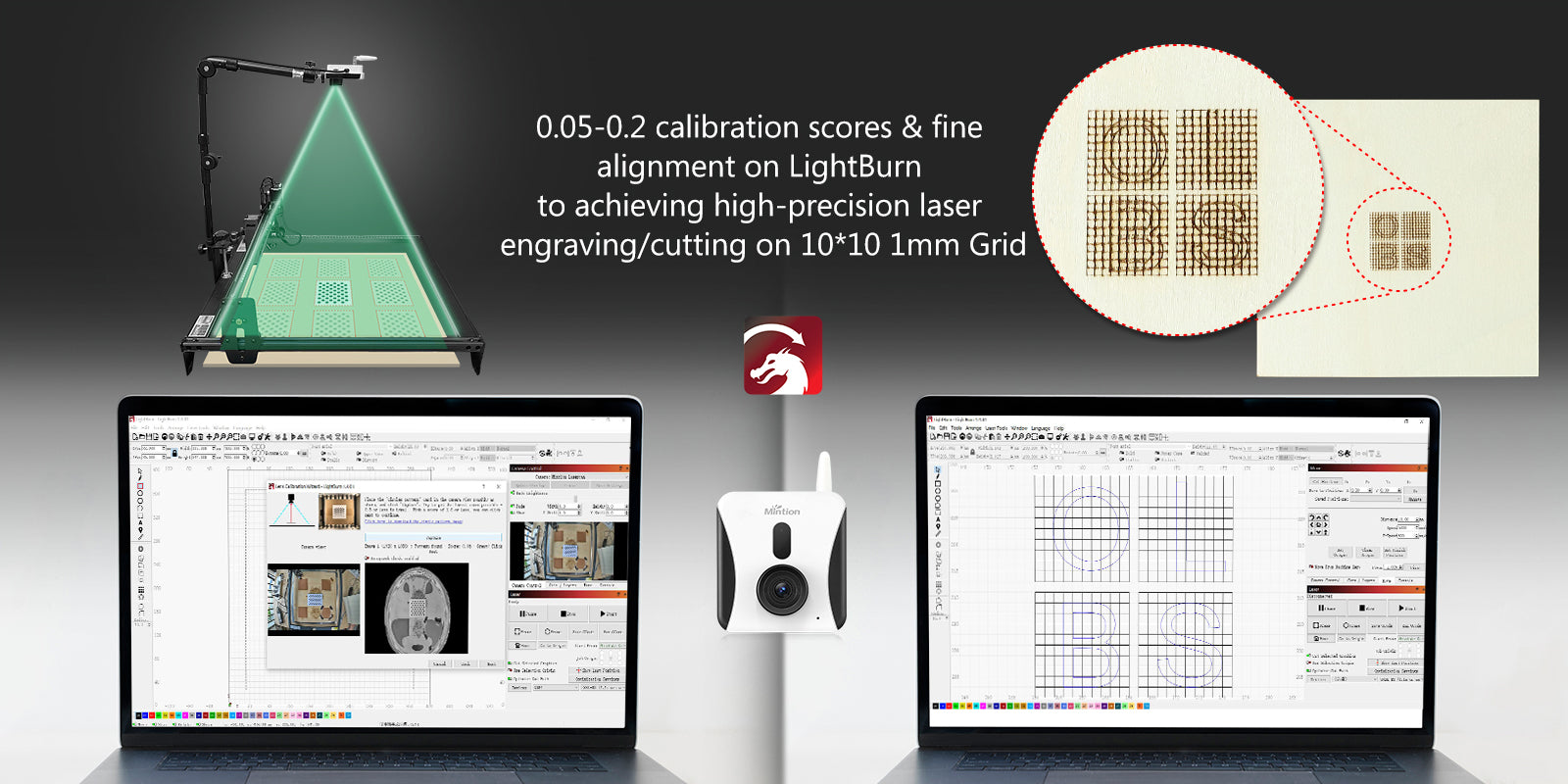 Remote Monitor the Ongoing Project
With BeagleEngrave, you can easily observe the job ongoing and digital zoom the video to check the details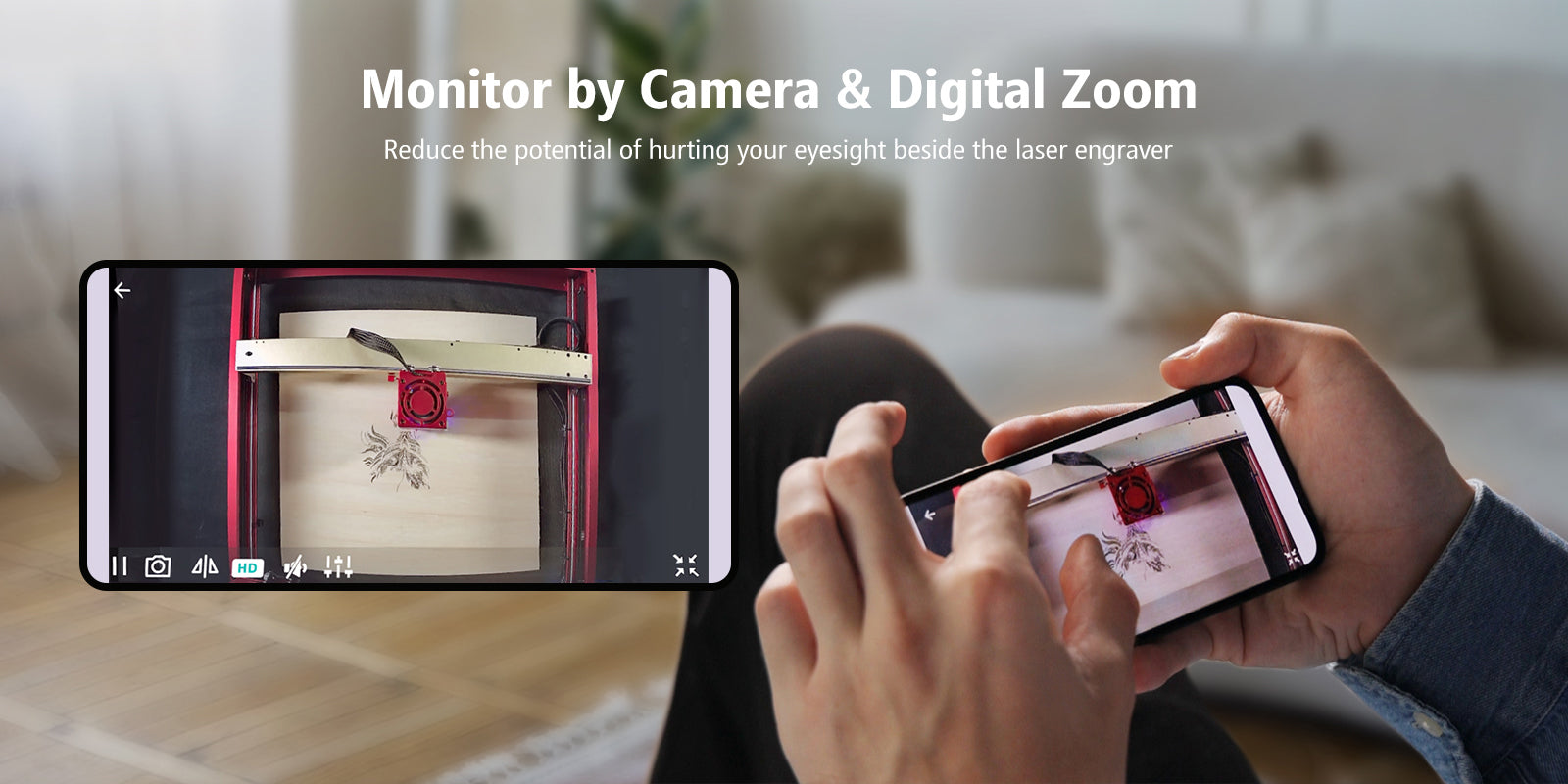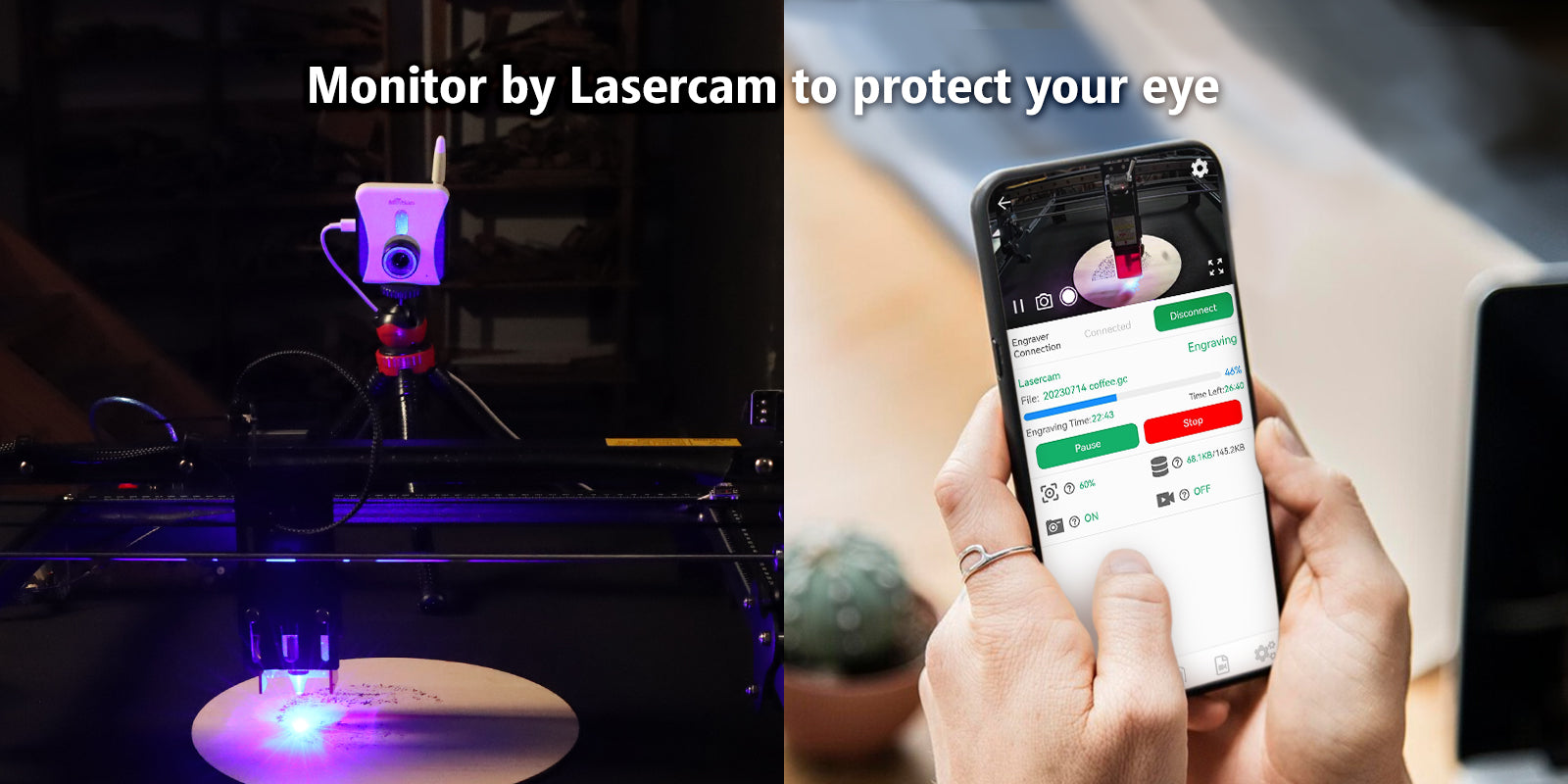 Remote Control the Engraver
You can easily check the artwork and control the engraving on hand, even if it's in the enclosure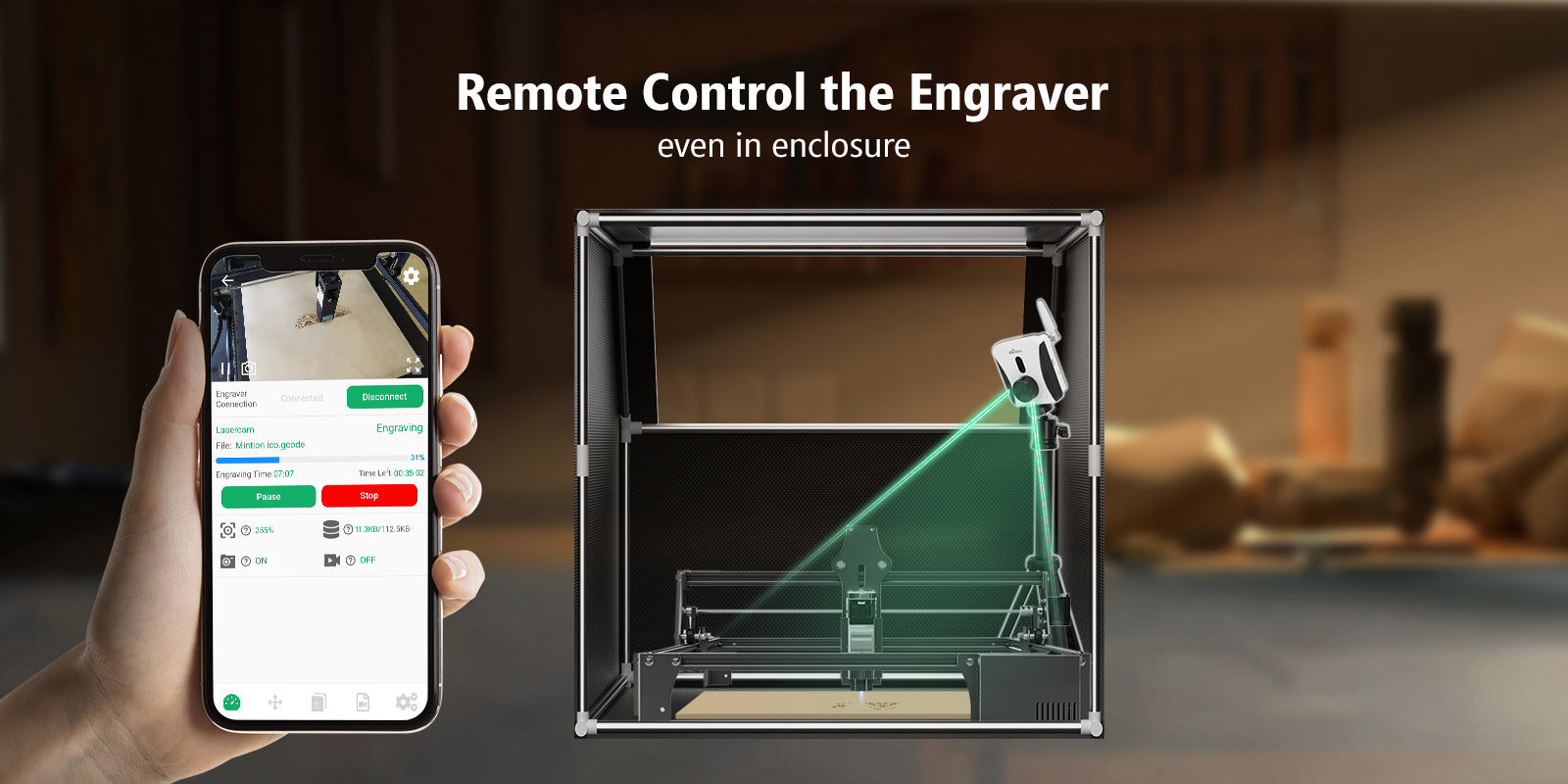 Work as LightBurn Camera
The Lasercam is able to connect to computer and works as LightBurn camera for positioning and tracking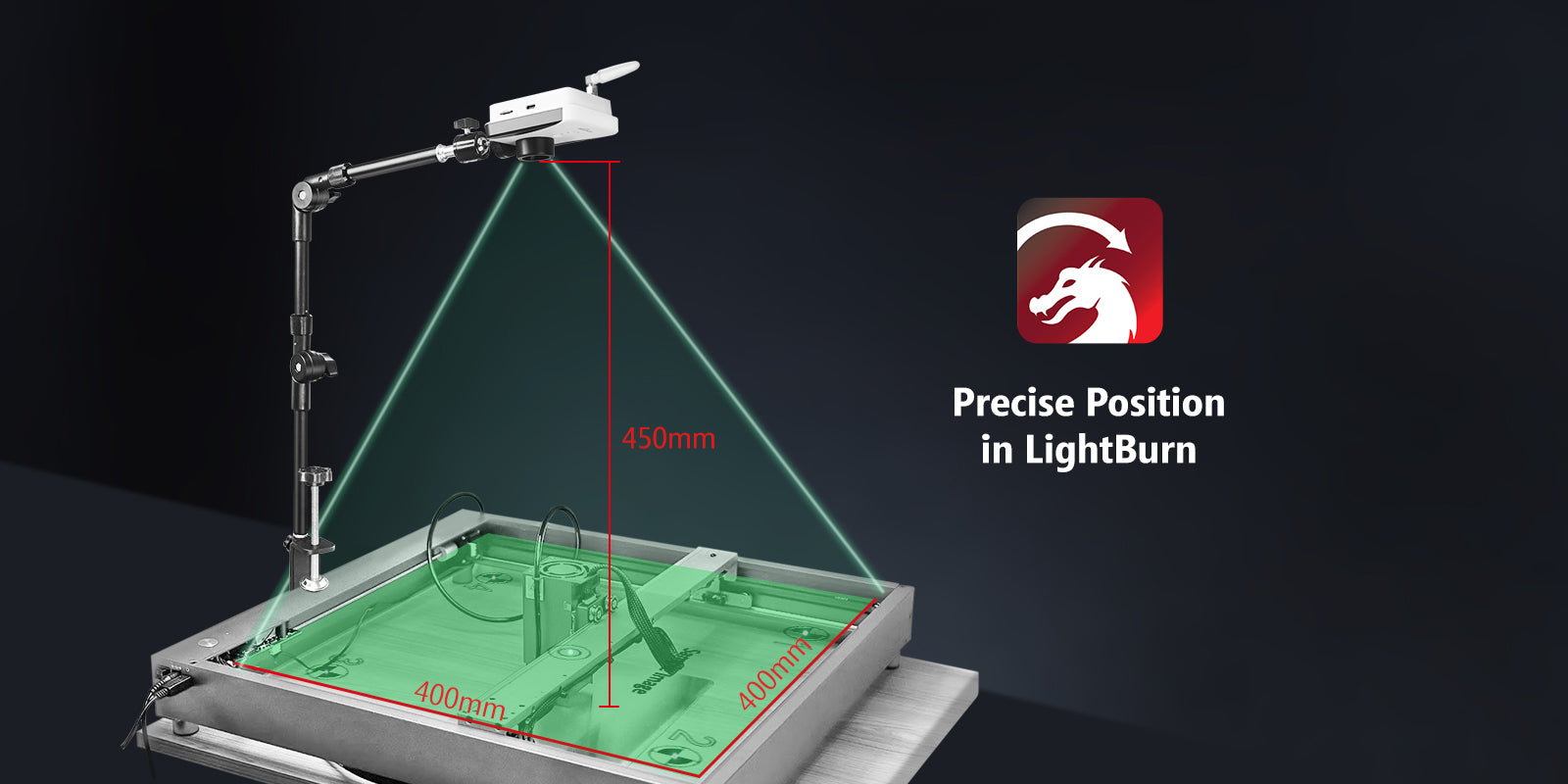 Beyond a Camera for Multiple Functions
The Lasercam is specially designed for laser engraver/laser cutter, not just as a normal USB camera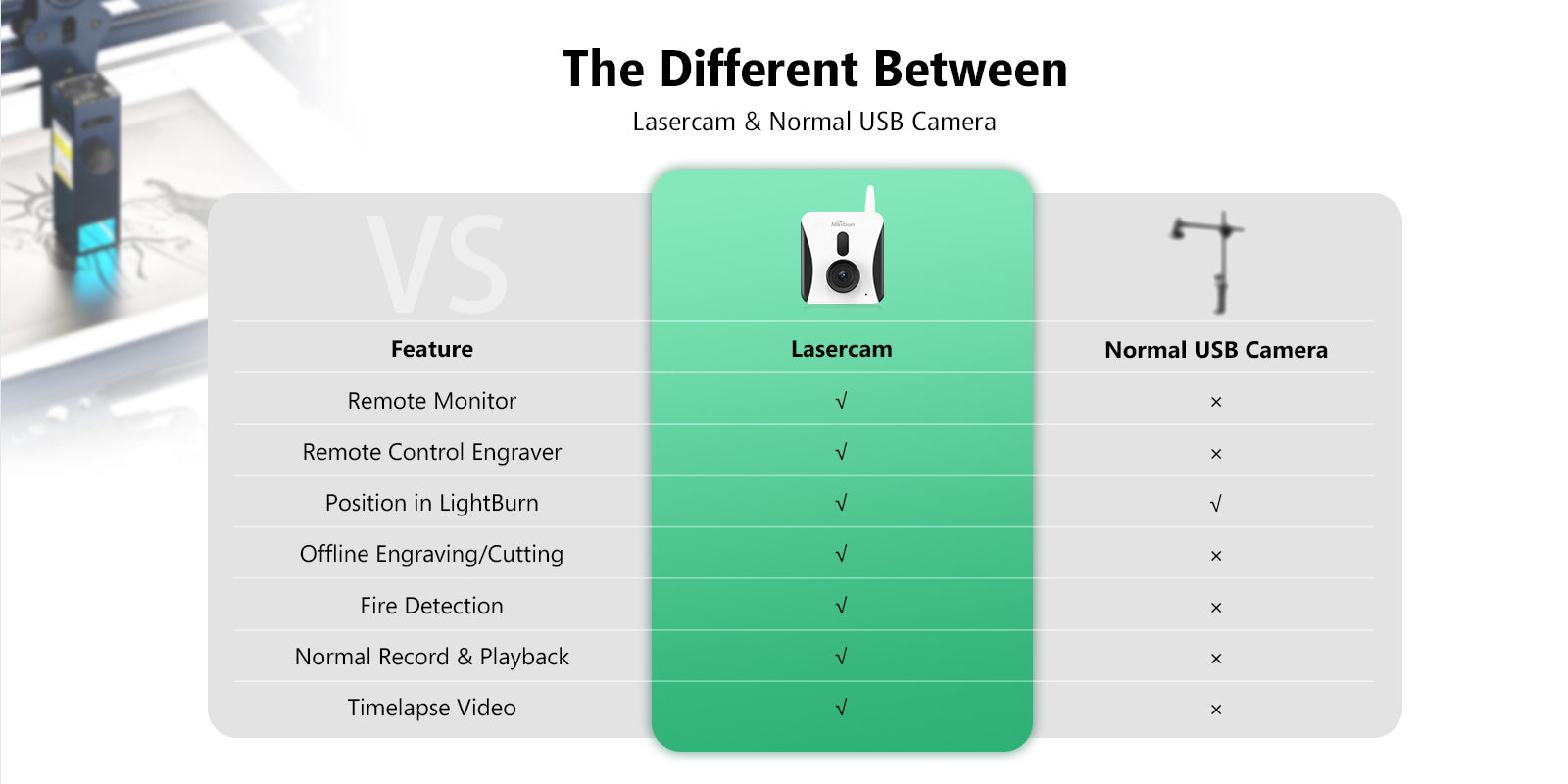 Fire Detection for Safe
When the Flame Detector detected a flame, the camera will send the command to stop the engraver and move the laser module aside, then Lasercam will alarm and send the alert message to your phone to keep safety.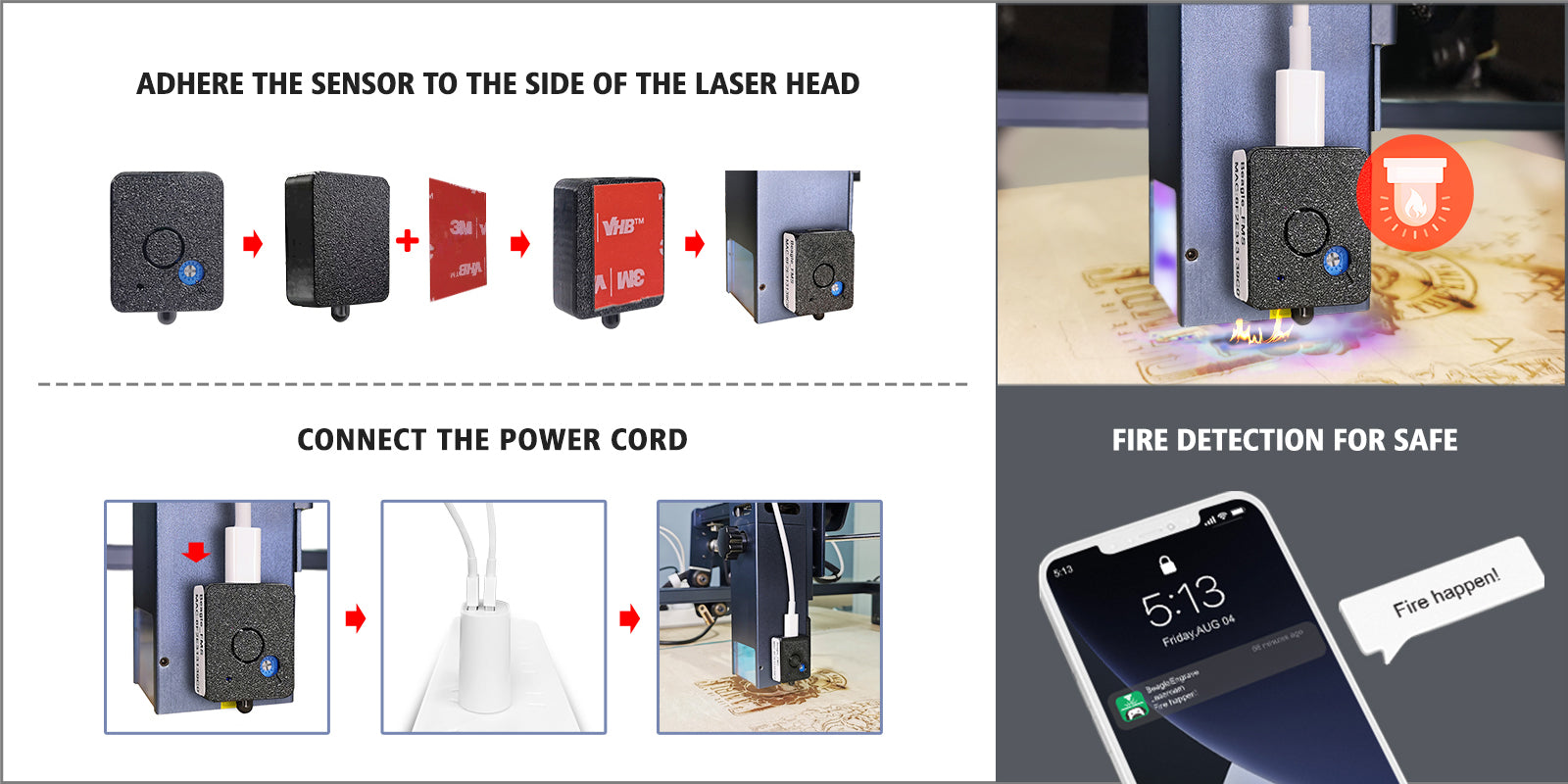 Use on Browser
Besides the app BeagleEngrave, you can also use login the camera on browser and easily upload the gcode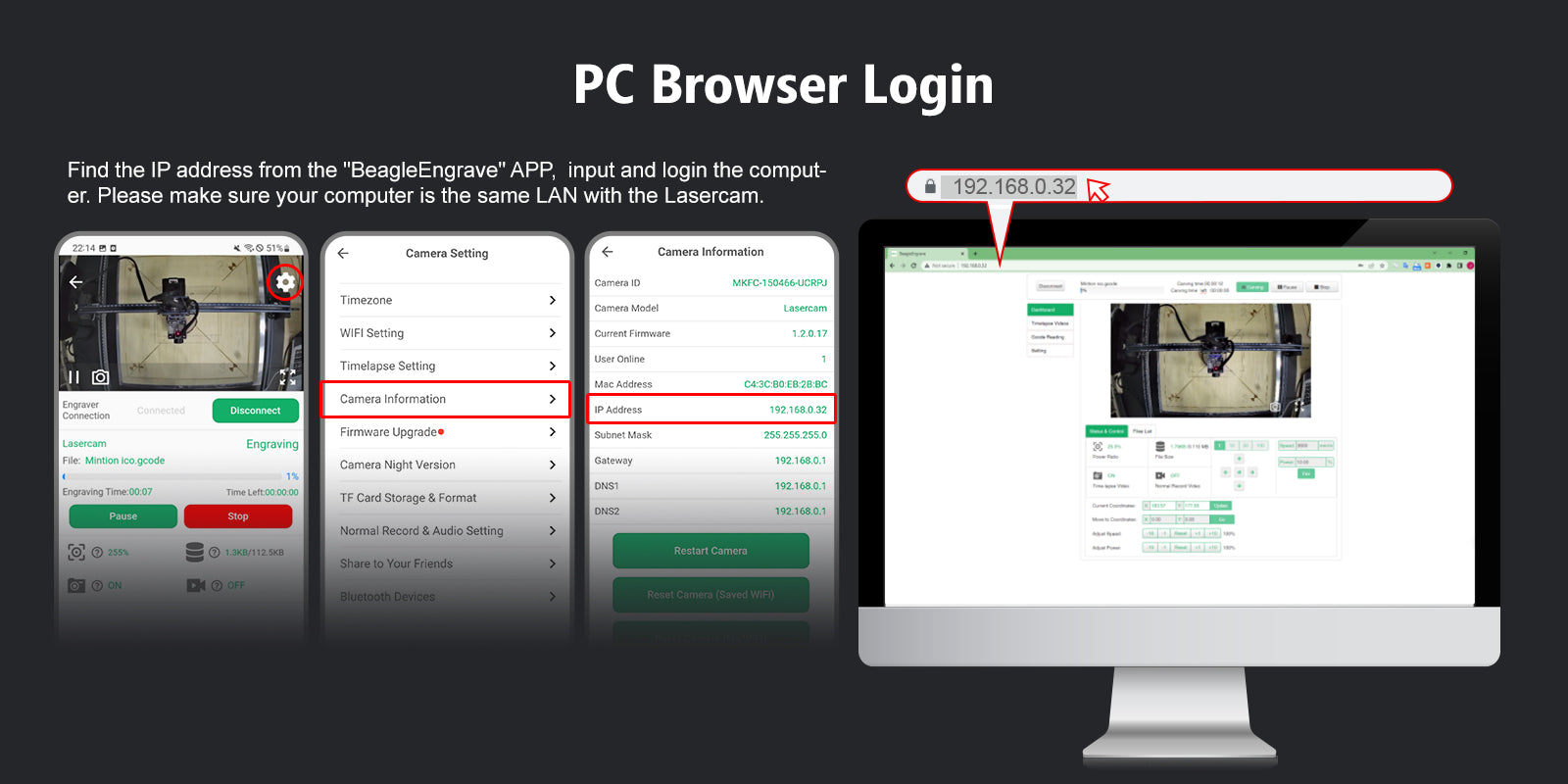 Real-time Prompt Engraving Status
When engraving/cutting is paused/interrupted/completed, the app BeagleEngrave will push a message in real time to let you know the status at the first time.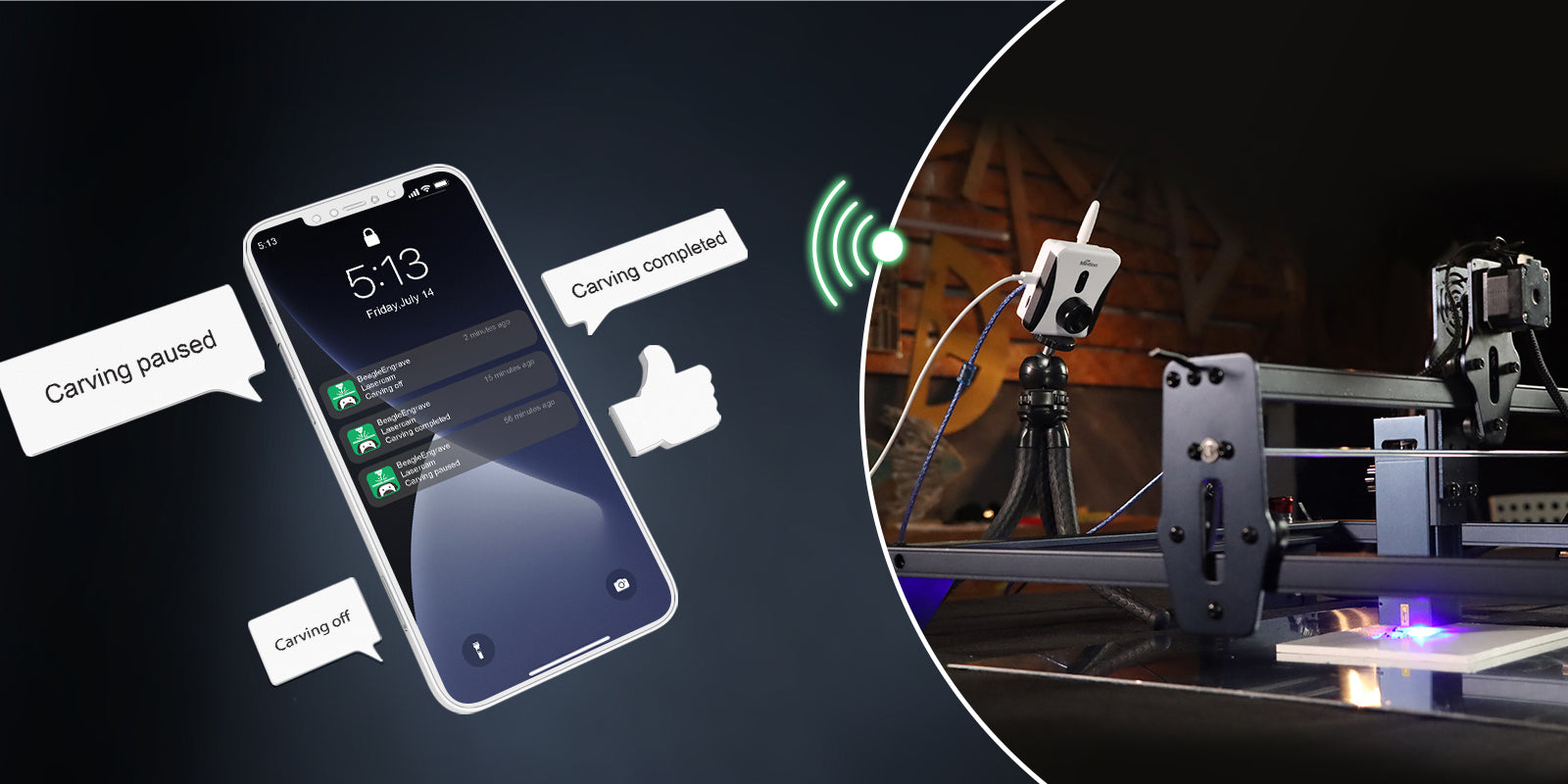 Create Time-lapse Video with Fun
Three different timelapse video modes to generate the video automatically
Clean Timelapse Video
The laser module will be moved aside every 5 seconds (default setting) automatically to create a timelapse video like the art job self-growing.
Normal Timelapse Video
The camera will capture the image each 5 seconds (default setting), but won't move the laser module. The laser module will be inside the video.
Timer Timelapse Video
This mode allows to make timelapse video even without connecting to the engraver. You can set the timing to capture as a camera to make timelapse video.
Laser Engraver/Cutter Compatible List
Lasercam camera compatible with major popular engravers in the market and the list will be updated regularly
ATOMSTACK
A5 M30 / A5 M40 / A5 M50 / A5 M50 Pro / A5 Pro / A5 Pro+ / A10 Pro / A20 Pro / A30 Pro / A40 Pro / P9 M40 / P9 M50 / P7 M30 / P7 M40 / P9 M50 / S10 PRO / S20 Pro / S30 Pro / S40 Pro / X7 / X7 Pro / X20 Pro / X30 Pro / X40 Pro
iKier
K1 Pro / K1 Pro Max / K1 Ultra
Ortur
LM2 / LM2 S2 / LM2 Pro S2 / LM3 / LM3 LE
SCULPFUN
S6 / S6 Pro / S9 / S10 / S30 / S30 Pro / S30 Pro Max / S30 Ultra
Software List
The Lasercam complies with RGBL protocol and works flawlessly with the gcode files
Night Version
Black & White; Color Night Version
Compatibility
GRBL protocol engraver and LightBurn & LaserGRBL
Files Storage
Micro SD Card (Default 32 GB)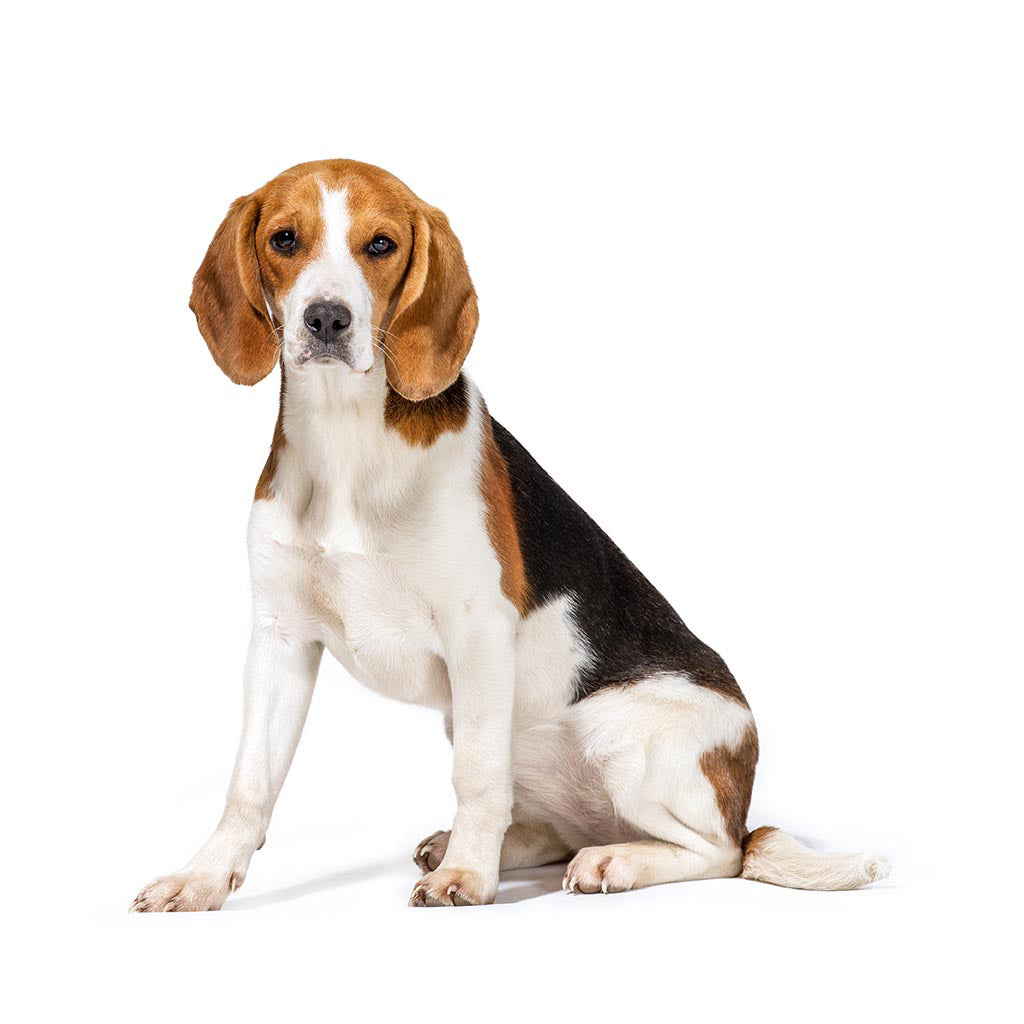 The Beagle
Excellence Watchdog
The Beagle is an excellent watchdog with a friendly personality; they have reliable guarding and territorial instincts and are highly protective of the family members, making them a good choice for a watchdog.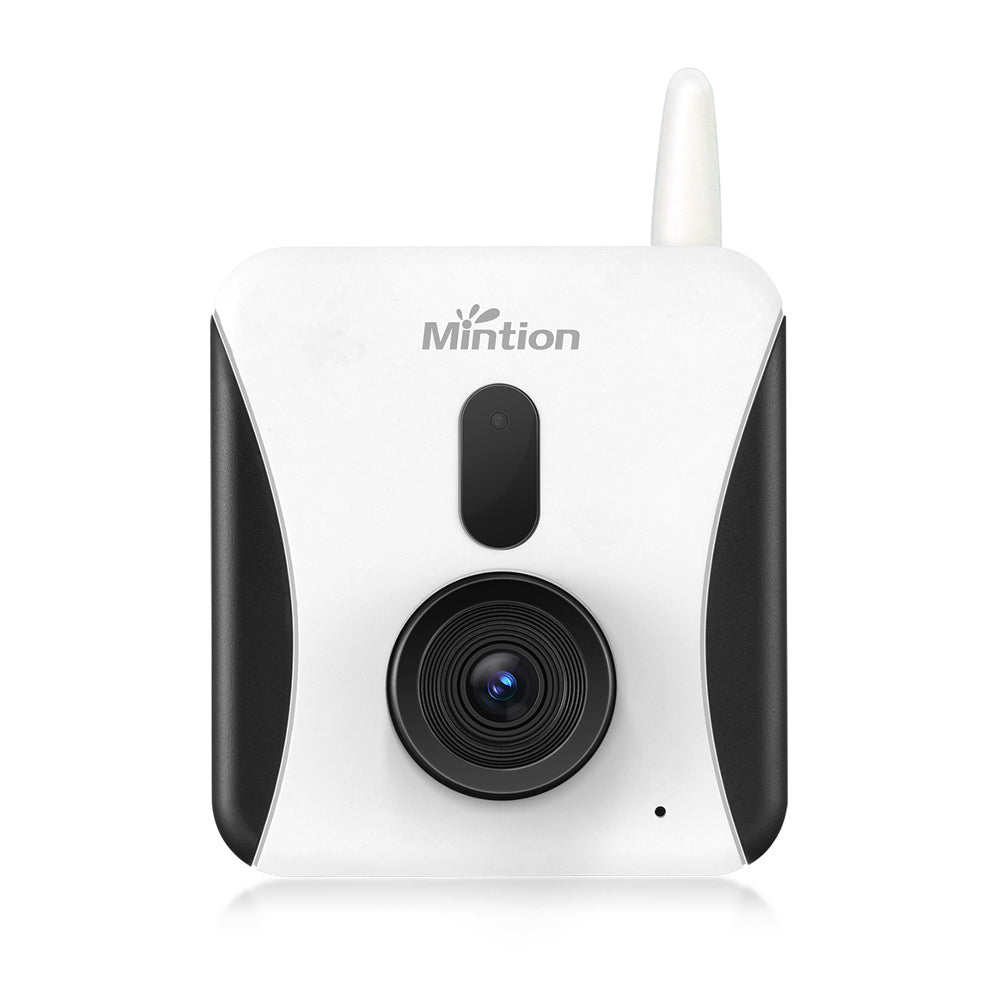 The BeagleEngrave
Your Engraver Sentinel
We envision our Lasercam camera as a reliable companion for laser engraving/cutting, just like a loyal beagle. It offers remote monitoring and controlling, acting as a vigilant guardian throughout the process, including fire detection. Seamlessly integrated with LightBurn software, it ensures precise positioning, enhancing the engraving experience.
This versatile camera also boasts a one-button auto-generation for time-lapse videos, adding joy and entertainment to the engraving, much like how beagles always find ways to bring laughter and delight.
New camera
I like the camera, I do find it a bit frustrating to line up the camera with the center of my board. Even after multiple try to get it aligned I still have to tweak it after laying out the overlay in lightbulb. Probably user error but if the could include a ring and sting setup to go on the lens for plumb set up that would be great. I may just design something and 3D print it.